Denimio Blog
Denimio's Official Blog!
Mr. Olive-The spark that's generating denim magic
The Japanese brand Mr. Olive was founded in 2003. It was created by a designer Wataru Nagao. This brand does not make a significant accent on jeans, although denim clothing are prominently present in their collections. Mr. Olive tries to produce a complete collection of men's casual clothing from outerwear to footwear. The basis of any collection can be clearly traced from the influence of American and European clothes of 60-70's. All this has an inherent quality of the Japanese companies and some elegance that allows you to look great in already habitual (and in some cases, outdated) western clothes. This style allows the wearer to create a modern and attractive look in such aesthetics clothes.
Most of Mr. Olive's items are produced in Japan. As a rule, such clothing has relatively small editions and is designed mainly for the domestic market.
All these things have an inherent accuracy, attentive and respectful attitude to the history of Japanese companies. Thus, Mr. Olive offers a very simple and clear concept: a stylish and sophisticated design based on western clothing and a characteristic painstaking Japanese "hand-made" production.
Let's take a look at some things from Mr. Olive that are offered by Denimio.
Dense, comfortable and durable knitwear - these things are a staple loved by everybody, regardless of preferences in fashion and style. The basis of most of the models of Mr. Olive is vintage American sportswear.
MR.OLIVE
M-18107 AMERICAN VINTAGE URAKE / ELBOW PATCH BOTTON UP PARKA
A button-up hoodie with a hood. Available in three colors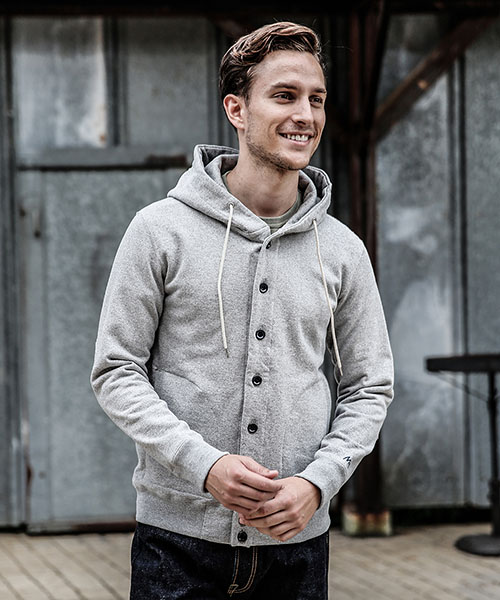 MR.OLIVE
M-18108 AMERICAN VINTAGE URAKE / ELBOW PATCH PULL OVER PARKA
Classic Hoodies, which could be dressed over the head. This style also has a tightening layer for the hood and a pocket on the front. It can be used as a simple top or as a "middle layer" when used with a jacket. Available in several colors.
MR.OLIVE
M-18109 AMERICAN VINTAGE URAKE / ATLANTIC CITY PULL OVER PARKA
The version of the same hoodie model, with a print on the chest.
MR.OLIVE
M-17361 RACAL× COLLABORATION / MR BIG LOGO WOOL BASEBALL CAP
Classic baseball cap with a comfortable deep landing.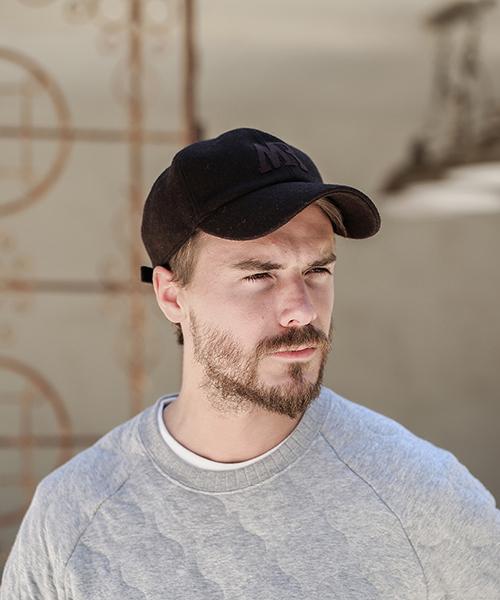 Has a large neat logo. Baseball Cap is made of wool. Inside there are inserts made of genuine leather.
Shoes, however, are where the details really stand out in Mr.Olive's collection.
The brand E.O.I. (Eagle of Independence)  produces shoes for Mr. Olive, handbags and leather accessories.
The footwear of this brand is characterized by the recognizability of silhouettes, which are rooted in the American and European traditions. Here we see both classic chukka-boots, "postmen", and "hunting" boots. They copy the most practical and stylish footwear in every man's closet- already occupying a strong foothold in men's everyday style.
All shoes are made in Japan. They use the raw materials from well-known tanning enterprises (for example, Horvin). The manufacturer pays special attention to the waterproof leather. Furthermore in this case, it is not just a usual standard treatment to protect the product from moisture but about the leather itself, which, as a result of using the special chemistry process, acquires waterproof properties.
The sole is fastened with the help of a Black Rapid seam. This version of the seam is a more complex version of the Black seam. The Black seam fastens the sole directly to the top, without using welt. This seam is used for the good elasticity of the sole and relatively simple process of its replacement but has disadvantages in durableness and bad resistance to moisture.
The Black Rapid represents, in fact, two seams: one fastens the midsole, other actually fastens an outsole. This seam is expected to be more durable and more resistant to moisture, but the flexibility of the sole is a little sacrificed due to practicality.
Footwear, despite the "canonical" silhouettes, is quite original, with its aesthetics and recognizable style. According to the photos and description, for such shoes is unlikely to need a long break-in, they look like very soft and neat. Mr. Olive fans are likely to love the noticeable texture, "wrinkles" and creases on the leather and its further natural aging. In general, things look quite practical, wearable. Prices can hardly be called low, but all quite within the "law of the genre" and most likely such things are worth the money spent. These items have followed the traditions of the past, practicality in use, and all have the modern style, goodness, thoroughness, quality, and a certain aesthetic pleasure that in general all taken together is typical for different products from Japanese companies.
Let's take a look at some models of such footwear.
MR.OLIVE E.O.I
ME523 WATER PROOF SHIRINK LEATHER / POSTMAN BOOTS
Well known for releases by other manufacturers of shoes "Postman shoes". Simple sleek silhouette and lacing on the four louvers. Combine well and with jeans and trousers.
Here is used the "waterproof" leather mentioned above. The leather is quite soft and comfortable, break-in and stretch it should be good.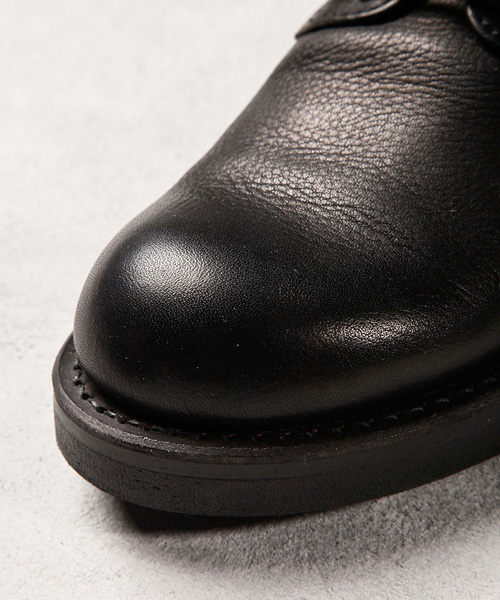 Here is used the sole of a mixture of rubber and a cork. They say that this sole is relatively light and comes with a fairly comfortable "adhesion" with the urban surface (of course, it is not about the winter period).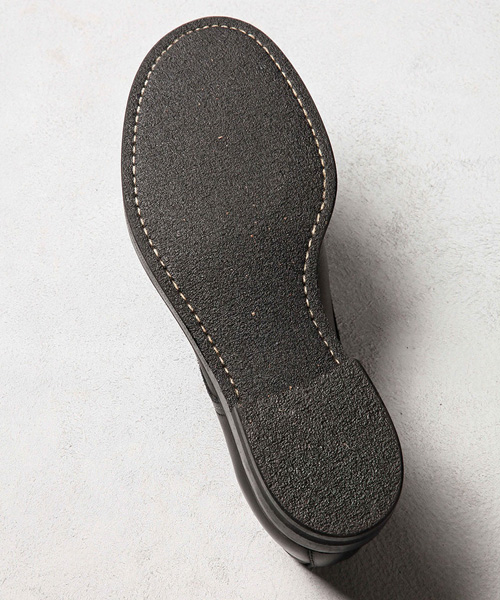 MR.OLIVE E.O.I
ME826 WATER PROOF SHIRINK LEATHER / WHITE VIBRAM POSTMAN SHOES
The variant of "postmen shoes" on a light Vibram sole (which is, even if the manufacturer doesn't emphasize it, it has a good depreciation and elasticity).
MR.OLIVE E.O.I
ME825 WATER PROOF SHIRINK LEATHER / BLACK VIBRAM POSTMAN SHOES
The same shoes with the black sole Vibram in soft brown and black cow leather.
MR.OLIVE E.O.I
ME828 WATER PROOF SHIRINK LEATHER / WHITE VIBRAM CHUKKA BOOTS
Similar to the "postmen shoes", a simpler version with a focus on practicality with a corrugated Vibram sole. This version also comes with a lighter sole.
MR.OLIVE E.O.I
ME551N HORWEEN CHROMEXCEL LEATHER / SEVEN HOLE HUNTING BOOTS
Higher "Hunter" boots made of horween leather. The leather is soft, not thick. It receives traces of use and scratches quickly enough. There is no sense in preventing the aging, since this comes with natural wear and has beautiful lines when well-worn.
These boots are laced with five eyelets, plus two speed hooks for fast lacing (a very convenient detail which helps to prevent extra movements).
The sole is made of a mixture of cork and rubber
MR.OLIVE E.O.I
ME521 WATER PROOF SHIRINK LEATHER / SEVEN HOLE HUNTING BOOTS
The same model is made of "waterproof leather."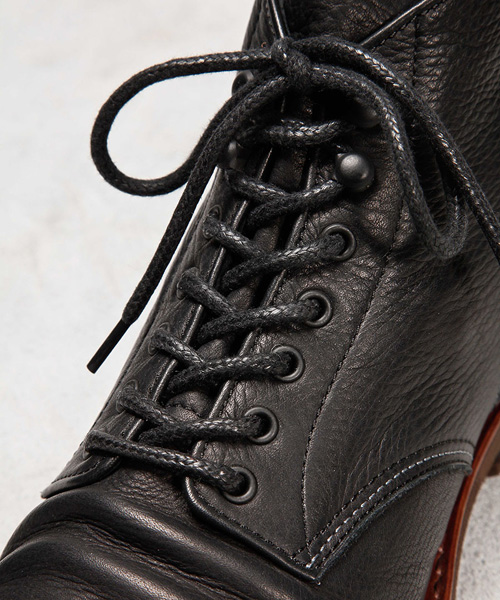 MR.OLIVE E.O.I
ME524 WATER PROOF SHIRINK LEATHER / LACE UP LOGGER BOOTS
The highest boots with lacing on five grommets and 3 speed hooks.
All shoes of this brand are represented by the following size chart :
They are presented in the following sizes:
7H - 25,5cm 8H- 26,5cm 9H - 27,5cm 10H - 28,5cm
In conclusion, I would like to say that Denimio has now another very interesting Japanese brand. Everyone can find their best shoes, fans of an "American" style will be happy to get recognizable silhouettes, fans of Japanese quality and "artisan" production will not be disappointed as well. It is exactly those boots that will perfectly blend with your favorite pair of jeans:)