Denimio Blue Loyalty Program
Join to Earn Points and Rewards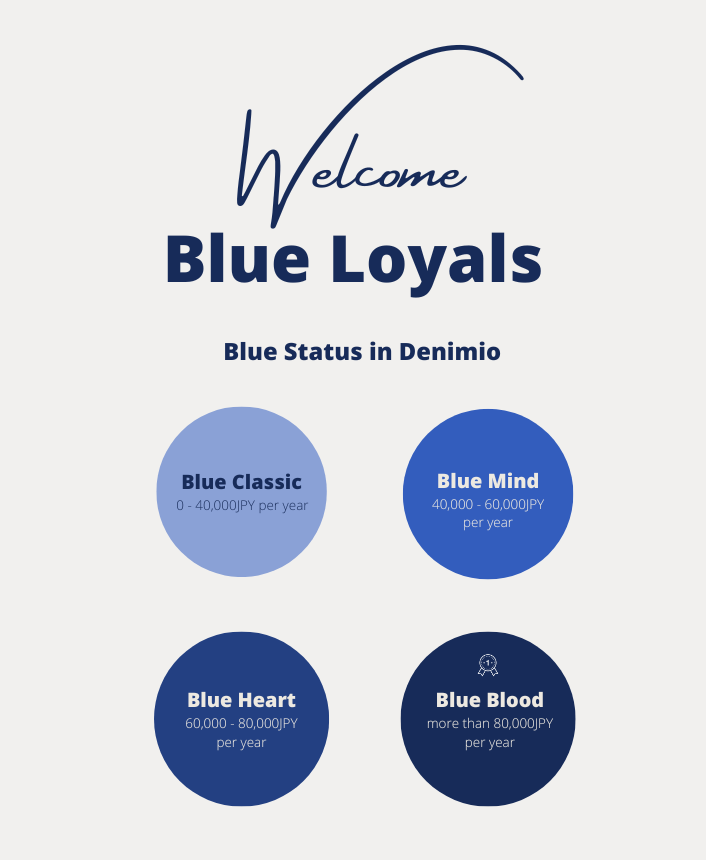 What is Denimio Loyalty?
It is super easy to join our loyalty program. Just create and account and start buying. The more you buy, the higher your status will be. Depending on your status, you will receive early access to limited editions and collabs, and get bigger discounts in our loyalty sales.
Denimio Loyalty Explained
Sign Up and Shop
Instantly become the Blue Classic member of Denimio Loyalty just from your first purchase
Enjoy The Benefit
You'll be entitled to exclusive benefits reserved for your membership status for any purchase you made in Denimio
More Suprises!
Means more benefits, privileges, and surprises you'll be getting. Stay tuned!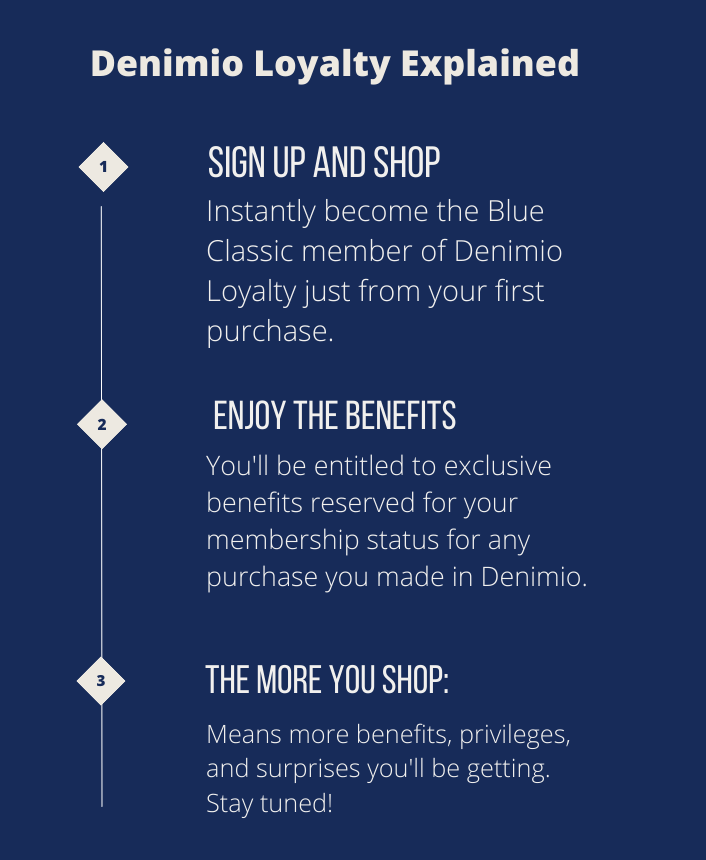 Some of our Loyalty Perks
Points on purchases Higher your tier, the more points you could get after every purchase.
Advance Access Get a first look at new arrivals and receive special offers ahead of anyone else
Better Offers, Climb the Tier Blue Blood gets the biggest rewards, just shop more to get the best returns!
Blue Status in Denimio
The higher your status, the higher your rewards
Blue
Classic
0-40,000 JPY
Per Year
Blue
Mind
40,000-60,000 JPY
Per Year
Blue
Heart
60,000-80,000 JPY
Per Year
Blue
Blood
More than 80,000 JPY
Per Year
How to Get to Know Your Loyalty Status
1
Check out your loyalty status with Denimio live assistant in our web store.
2
Request status checking via email to support@denimio.com
The new membership renewal period has been changed from every September 1st (annually) to be every August 1st (annually) . This means that the purchase amount calculated towards loyalty membership status was counted from Aug 1st (last year) to July 30th (this year) to determine every member's status for the next 1 year starting from Aug 1st onwards.
What Denimio Member Says
I've been a loyal customer for denimio pretty much from the start and have made many friends through the many fade contests Denimio has organised over the years. Getting discounts or early access to certain items is great but the main selling point really is that I feel my loyalty is being recognised. I'm not just another customer, I feel like a friend of the store
Bill, USA
Blue Mind
Denimio allowed me access to brands I could never afford in Germany. My collection of ONI, SDA, Momotaro and many more is proof. Buying from Denimio is special and they find some real gems like Graph Zero and introduce them to denim addicts like me who would never ever find them otherwise. Fast shipping, brilliant customer service and all the perks that come from being a loyal member really make denimio my number 1 shop!
Alex, Germany
Blue Heart
Denimio has the best prices and by far the biggest selection of denim out there. I never had a question that they couldn't answer. Sizing issues, shipping problems, general inquiries: they always come through. My loyalty status just happened and I'm not even a crazy shopper. The many advantages like early access to limited items or the loyalty sales are a welcome bonus!
Ryan, UK
Blue Blood
Terms & Conditions
Denimio loyalty membership program counts only cash purchases
made to Denimio, Please refer to the sample case below.
__________________
Total Product Price: JPY20,000
The customer uses 10% off discount code: discount JPY2,000
Total Payment Made: JPY18,000 = calculated towards loyalty
membership status
__________________